The jaws are made from either Aluminum or steel as standard material. The jaws can be manufactured from other materials like plastic, brass or other per your specifications.
The jaws can be hardened and ground to specific sizes, dimensions and shapes.​
The standard jaws height is as follows:​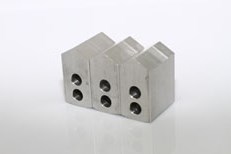 Aluminum pie, 120 degree jaws​
Aluminum half pie, 180 degree jaws​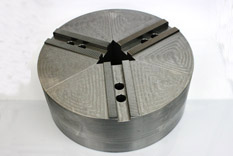 Custom Jaws - material C45
optional material SAE 4140 or 4340​
Serration 1/16" X 90˚
(available 1.5mm x 60˚)​
Pie steel soft jaws dia. 10" H-70mm​
The following are custom jaws manufactured per customer specifications:​
PML-PAL manufactures top jaws for all precision chucks we make. Top Jaws are made with tight tolerances to properly fit onto our chucks. Our jaws may be customized per customer specifications or workpiece dimensions. We also make custom jaws per cutomer specifications (bottom of the page).
We offer three main types:
Block type
Pie type
Half pie/ circle type
​