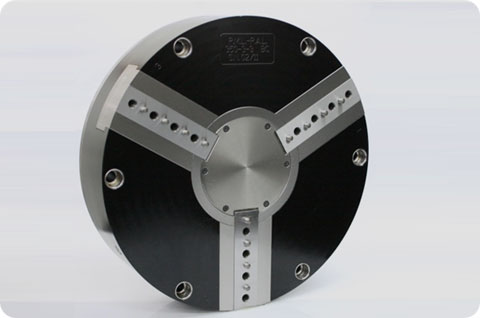 This is a 350mm or 14" precision air chuck with three jaws and 3mm jaw stroke.A customer approached PML-PAL engineering with a request to design a large air chuck for turning application that is going to clamp a large work piece, over 1000mm or 39". The customer asked to consider the heavy load on the spindle. He asked to design a chuck that would be as light as possible. The chuck has to be designed to hold its accuracy and repeatability for the long term as well as run at certain rpm.Considering the light weight request, the conclusion by pml-pal was to design a chuck body made from Aluminum material that goes through anodizing process. The moving parts are inserts made of gray cast iron and inner jaws made from hardened carbon steel. The aluminum chuck weight is roughly 30kg/66lb. It is about 43% percent or 23 kg/50lb lighter than a similar chuck made of mild steel. Accuracy is 0.006mm or 0.00024".To read more about the manufacturing process, please review the following page.
On this page we present two main models of Front End, self contained air chucks: sealed model and standard model.The swiveling unit replaces the air feed tube (AFT) in a machine without through hole in it's spindle. Another use is when there is a need to load the workpiece from the front and the back as well. Sealed modelThis is a two jaw 107mm sealed chuck for grinding applications with an air swiveling unit and a 12mm through hole. The chuck is based on PML-PAL 107mm BCG model. Chuck with three jaws is available as well. Technical features:Accuracy 0.002mmGripping force 480kgf in 6 barsStroke on Dia. 2.5mmMax speed 4000 RPMThrough hole 12mm​
The following fixture is a complete custom-made solution that was designed for an automotive customer. This state-of-the-art fixture has several important features that PML-PAL offers in order to boost operation cycle efficiency.The advantage of using a precision air chuck fixture is the ability to work on multiple work pieces simultaneously, hence cutting cycle time substantially (tool changing time saved is roughly 75%). Using our safe and reliable fixture enables easy installation and set-up, quick and easy loads and unloads of the work pieces, and most importantly, a high level of accuracy.​
Vise vs. Precision Air Chuck​
The following case study reviews the difference between working with a vise vs. using atwo jaw self centering stationary precision air chuck to clamp an odd shape small work piece.The following workpiece was milled in a CNC machining center. All five walls are done in the first operation except one.​
In the following case study, we discuss how to clamp and in what way to machine thin and very soft material without deforming it. Below is a Teflon material piece or substance called polytetrafluoroethylene (PTFE). This is a 3.5MM high by 65MM DIA. workpiece to be machined with tight tolerances. It was decided to use a stationary high precision air chuck to be the workholding tool.Why? 1. Ensuring non material deformation by clamping at very low air pressure.2. Easy and effortless clamping and workpiece releasing.​
Chuck on Automated Machine​
On this page we would like to show how a customer is able to use air chuck in its machine building and manufacturing process. This is a rotating chuck 125-3-2.5 NBCH 20 with a 20mm half way sunk hole.​
Chuck Body Making Process​
How does a chuck get made using another high precision air chuck?This unique case study illustrates a real situation in a machining set up where a large workpiece is machined efficiently: fast with minimum clamps. We will demonstrate how a 350mm chuck body is made using another 200mm high precision air chuck to clamp it (200-3-2.5 ST) while it is being milled. The below large workpiece will be transformed into a chuck body using the fewest clamps possible and in the shortest time. The photos below illustrate the process along with the clamping system.​
This is an example for a unique usage of precision air chuck in welding application. A customer operates a robot as a welder and uses a PML-PAL air chuck to clamp the workpiece. That is a non conventional application for a high precision air chuck. ​
air chucks on workstation​
Here is a great example for usage of stationary air chuck in a unique workstation.The customer is using PML-PAL stationary air chucks 83-3-2.5 TH-12. The chuck features are: - 83mm diameter- Three jaws- 2.5mm stroke on Dia.- 12mm through hole, allows to bore the workpiece deep in the chuck- Total gripping force 400kgf in 6barsMore information is available @ Stationary air chuck with through hole